SKU: 26336
Heat Bed High Power MOSFET Module 25A
125,00 EGP
Heat Bed High Power MOSFET Module 25A
Item: Power MOSFET
Input Voltage: 12~50Vdc
Recommended Voltage: 12~24Vdc
Max. Current: 25A
Distance between holes: 62.8*37.8mm
Size of suitable fan:30mm*30mm
Size: 70*45*29mm
Product weight: 65g
In stock
Description
Heat Bed High Power MOSFET Module 25A
Hot bed high-power expansion module, compact appearance, unique snowflake heat sink appearance design, more powerful heat dissipation, solve the problem of excessive heat bed power and current load, this module under normal heat dissipation, measured I (Max) = 25A It can work stably for a long time, and the current should not exceed 30A during use.
This high power module is a general add-on heated bed power expansion module for 3D printer. The module can be used with any 3D printer motherboards.
With this add-on module to board lead the maximum current up to 25A.
When using heated bed 3D printer for 12V power supply which may cause excessive current during times, with this module, it can well protect the connectors on the controller board from burning.
This module is based on power MOSFET allows load current up to 25A.
Specifications:
Item: Power MOSFET
Input Voltage: 12~50Vdc
Recommended Voltage: 12~24Vdc
Max. Current: 25A
Distance between holes: 62.8*37.8mm
Size of suitable fan:30mm*30mm
Size: 70*45*29mm
Product weight: 65g
Applicable for: Any 3D Printer Heated Bed
Package Includes:
1x  High High Power MOSFET Module
2x Power Supply Wires.
Datasheet:
Related Products: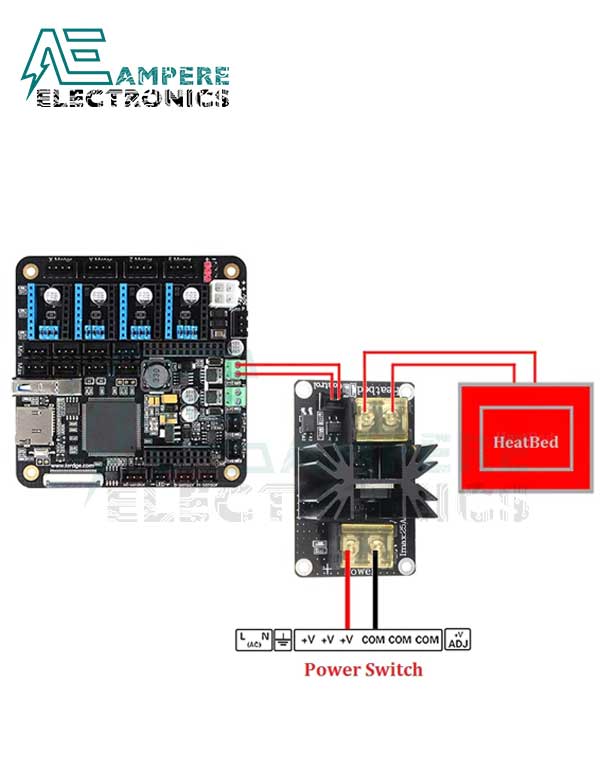 Additional information
| | |
| --- | --- |
| Bed Size | 220x220mm, 310x310mm |